Trueman's NTA UGC NET/SET/JRF Commerce 2023 Edition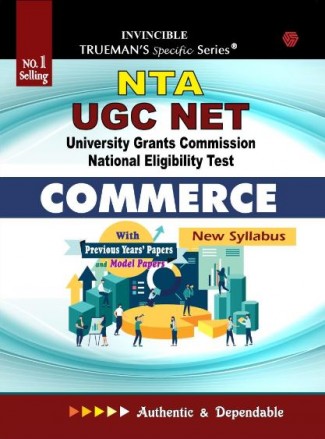 Trueman's NTA UGC NET/SET/JRF Commerce 2023 Edition
Rs.850/-
Writer : Dr. Parveen Kataria, Anshu Kataria And M. Shivani
Publisher : Danika Publishing Company
Availability : In Stock
ISBN NO. : 9788189301989
Laguage : English
Product Year : 2023, January 1
Trueman's NTA UGC NET National Eligibility Test/SET State Eligibility Test Commerce is a book that provides the readers with insights into key topics needed to clear the NET and SET.
Summary Of The Book
The National Eligibility Test (NET) is a nationwide entrance examination conducted by the University Grants Commission for those who desire to pursue a doctoral degree or apply for university-level lecturing jobs in India. The State Eligibility Test, as the name suggests, is conducted at state-level. Trueman's UGC NET National Eligibility Test/SET State Eligibility Test Commerce is a dynamic reference guide for students preparing for the NET and SET.
This book starts off by giving the readers a comprehensive overview of the guidelines and syllabus relevant to these examinations. There are 10 chapters in this book and some of them include Banking and Financial Institutions, Financial Management, Financial and Management Accounting, and Human Resource Management.
This book comes loaded with exam papers from previous years. It also provides the readers with objective type questions for the second paper, while containing theory and sample questions for the third paper. It also contains the model test papers for the second and third papers.
About The Authors
Anshu Kataria is an author, educator, and consultant. Mr. Kataria holds an MBA, M.Com, and a doctoral degree. He currently serves as the Chairman of the Aryan Group of Colleges, near Chandigarh. He has a great deal of experience with renowned councils and universities such as AICTE, NCTE, PCI, CCIM, MCI, and DCI. Kataria has been presented with the Rashtriya Vidya Saraswati Puraskar and the Shiksha Bharti Puraskar. He has more than 13 years of experience in teaching, administration, and research activities.
Parveen Kataria is an author and educator. Kataria holds an M.Com, MBA, and a doctoral degree. She currently holds the position of the Director General at Aryan Group of Colleges. Till date, she has written 12 research papers and articles. She has also guided M. Phil. students and is a part of the HRD Network. Kataria is also a Counsellor at IGNOU, New Delhi.
Table of Contents

Syllabus & Guidelines
Business Environment
Financial and Management Accounting
Business Economics
Business Data Processing Concepts
Business Management
Marketing Management
Financial Management
Human Resource Management
Banking and Financial Institutions
International Business Assorted Questions
Exclusive Study Material for Paper III
Multiple Choice
Questions for Paper III
Previous Years' Papers